Launch of new Agri-Can website
2023-04-27
Coaticook, Québec
We are excited to announce the launch of our brand new interactive Agri-Can website. A revamped, technological and intuitive version, filled with great discoveries for you.
We want to offer you the best client experience whether you are a distributor, retailer or user. Our new state-of-the-art site offers you a multitude of products as well as exclusive services.

The new Agri-Can Resource Center is a place for references. Among other things, you will find the new integrated search by serial number and model number. By accessing it, you will have access to:

- User's manuals
- Parts diagrams
- Spare parts
- Pictures
- Specifications

In the Agri-Can Resource Centre, you will also find all brands plough diagrams with the interactive photos where you will find your parts simply by hovering the mouse on the picture. We've packed it with links to manufacturers' parts books to help you find easily what you are looking for.
We've even put together a blog that we'll fill with interesting articles for you. We will also present the actors of our success, the retailers. Each month, you'll discover one of our retailers and the wonderful people who work there tirelessly to serve you.

In short, we have invested a lot to make your life easier and your experience at Agri-Can more enjoyable.

Enjoy your visit and take advantage of the many possibilities offered by our new site.
Have a good coffee while visiting the website and enjoy the beautiful improvements.
Good visit!
New line of products for tractors and loaders
2022-12-03
Coaticook, Québec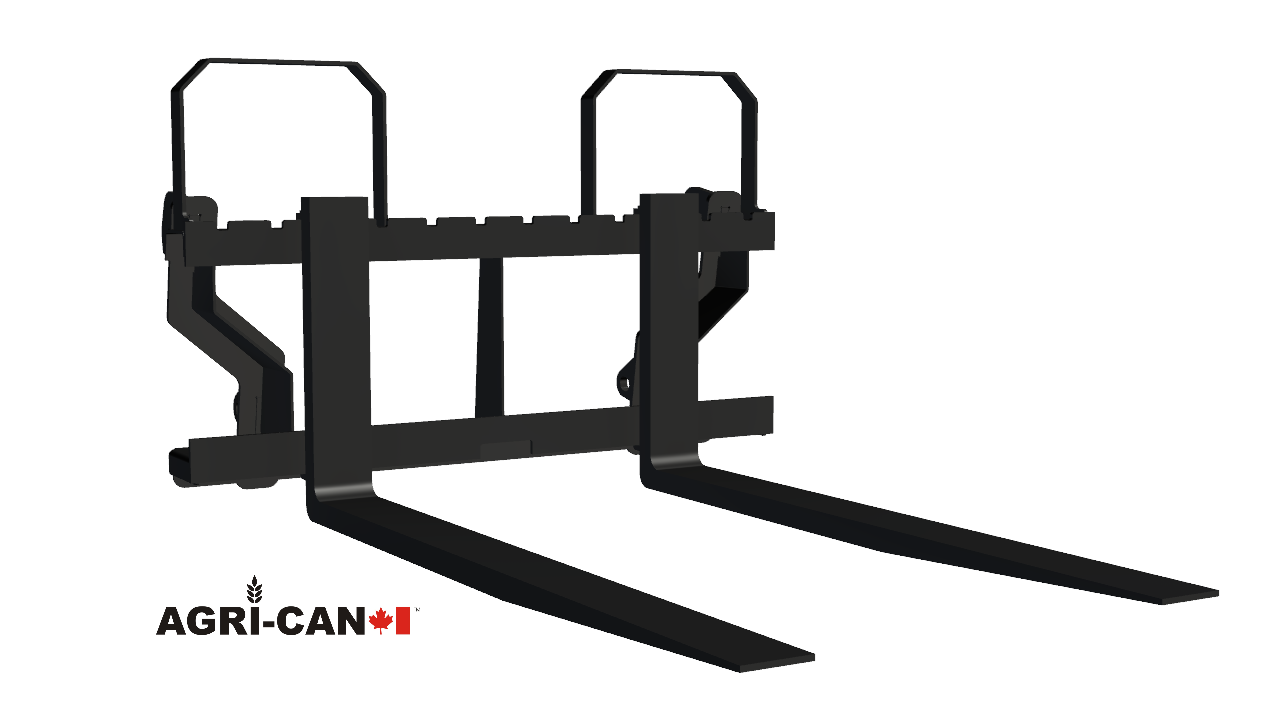 We promise you new quality products at an excellent price. Voilà! The new Agri-Can brand line of products for loaders and tractors.
Take a look at this expanded range that is sure to please you. Unparalleled quality and moreover, made in Canada. What could be better than encouraging the local economy and helping you benefit from it.
One more commitment from Agri-Can than we deliver.
Economic flat rates for freight transport
2023-01-20
Coaticook, Québec

In a constant effort to better serve its customers and offer ever more advantageous prices and rates, Agri-Can has entered into an agreement with recognized carriers in Canada and the USA in order to offer freight rates per pallet at reduces and fixed. Thus, our customers will be able to afford quality equipment and save on transport.
Once again, Agri-Can is fulfilling its commitment to provide the best to its customers. Thank you for making Agri-Can who we are, a recognized supplier from coast to coast.
Opening of a distribution centre in the USA
2022-08-03
Preston, Idaho USA

A new partnership and the opening of a distribution centre in USA
Agri-Can and Valley Implement, announces today a business partnership leading to the opening of an Agri-Can Distribution Centre in Idaho USA
Agri-Can has a distribution centre in the western USA afetr concluding a business partnership with Mr. Fred Titensor, President of Valley Implement. Agri-Can benefits of a warehouse with a shipping/receiving department in Preston Idaho, where all orders from the western USA will be processed and shipped.
'' With the rising transportation cost and longer delivery delay, we had to find a long-term solution to face this new world-wide dynamic. By inaugurating a distribution centre in Idaho, Agri-Can steps forward as a leader by reducing delivery cost and delays but also increasing it's offer on the American market. Our partner, Valley Implement, will be able to supply Agri-Can products to its clientele directly from the warehouse in any of their four (4) locations in Utah and Idaho. Excellence is a tradition at Valley Implement '' said Dominique Chabot, president of Agri-Can.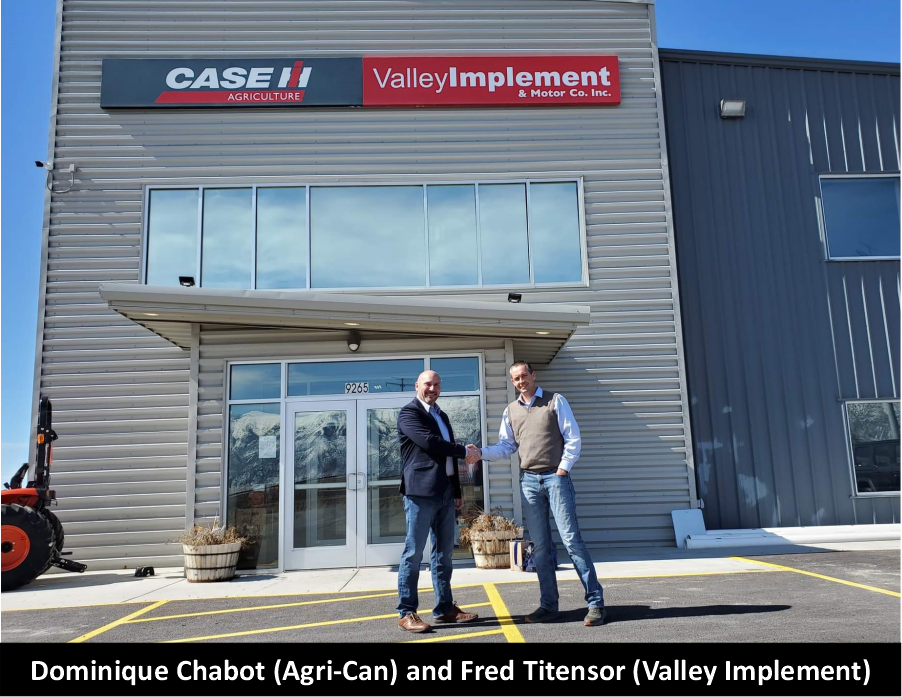 This business partnership is also an alliance between two (2) companies that have their clientele in high places and sharing the same values. We invite you to learn more about our valued partner by visiting their website at: https://valley-implement.com/about/.
Agri-Can is very thankful to Mr. Titensor for his trust in our company and his desire to innovate. With this partnership, Valley Implement and Agri-Can can face future logistic challenges on the American and international market.
2022-06-23
Coaticook, Québec
Dear customers,
We are currently receiving a very high volume of calls and as other businesses; we have a limited staff. It is possible that you experience longer wait on the phone. We encourage our clientele to leave a callback message or to contact us by email at info@agri-can.com. You can also order online directly at www.agri-can.com.
Thank you for your understanding and have a great summer!
2021-09-01
Coaticook, Québec
Dear clients,

The international changes caused by the pandemic continue to have an impact on our purchases and the supplier chain. For the past several months, our costs have continued to significantly increase. This situation seems likely to continue for the foreseeable future.
We pride ourselves on offering you the best prices but we are limited by the following factors:

Transportation costs
For the past several months, there has been a worldwide shortage of shipping containers. Because of this shortage, the cost of shipping has increased from $3,500 USD to $19,000 USD. Even with this huge spike in prices, shipping containers and space on merchant ships are hard to come by.


Cost of raw materials
At the beginning of the pandemic, manufacturing plants stopped their production of raw materials which resulted in a shortage in the months that followed. This shortage caused a significant increase in the price of raw materials. We are still facing this problem and the outrageous increase in manufacturing costs.
We are trying by all means to minimize the negative impacts caused by this pandemic, which is out of our control. Having said this, an increase in Agri-Can's prices is inevitable and will come into effect on August 15, 2021. This increase will depend on the type of product; some areas of manufacturing have been harder hit by the spike in costs.
We will continue to negotiate with our partners around the globe to ensure our clients get the best possible price. We have reduced our operational costs as much as possible to limit the impact on our clients, all the while maintaining our standards of customer service.
Rest assured that this unfortunate increase is completely out of our control, and when the situation stabilizes we will keep you informed. Our prices are directly impacted by the pandemic and will continue to change as the world continues to battle COVID-19. 
Thank you, dear clients, for your loyalty and understanding in these difficult times.


Dominique Chabot
President
Agri-Can
Online orders only continuation
2021-04-01
Coaticook, Québec
Dear valued customers,
In these difficult times, our focus remains on providing the highest quality service and parts while taking steps to protect the health and safety of our customers and everyone's families.  Effective immediately we will be making the following changes:
We remain open for online orders only. Please select your item on the website and make payment through Paypal. Your payment is always secured and you get the trade insurance for free.
We are not accepting returns and are unable to process your return for an immediate credit to be placed toward your current order at this time.
Delivery by courier is still ongoing but some delays may occur.
If you have any questions, please contact us by email at info@agri-can.com. A member of the team will contact you immediately.
We appreciate your understanding and cooperation during this time.  We will return to normal operations as quickly as possible.  We wish you and your families good health, now and in the future. Stay safe!
Sincerely,

Dominique Chabot
President
Agri-Can